About The D'Lights
The D'Lights are a trio featuring two classy female vocalists and a smooth guitarist accompanied by backing tracks to create a full live-band sound at a fraction of the cost.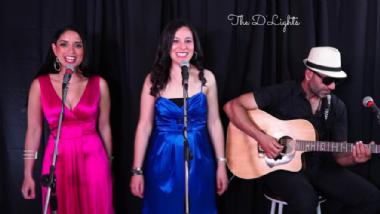 The D'Lights specilaise in retro, pop and party favourites, although we have a very broad repertoire that spans across many other genres including rock and even gospel! Specific requests can be made from our extensive song list and we can also learn new song requests with advanced notice. We tailor our set lists uniquely for each function based on the audience demographic and the mood & energy of the room during the performance. ;
For private functions, corporate functions and weddings, we are also happy to lead your guests through popular choreographed dance steps for The Nutbush, The Macarena and Latin favourites: Follow the Leader and Bomba – we offer this as a complimentary bonus! ;
For standard functions we recommend 4 x 45 minute sets and we carry a selection of background and dance-floor hits to play during breaks – this is offered free of charge. Use of our PA system is also complimentary if required.
The D'Lights are committed to providing a fun, entertaining and memorable experience for you and your guests!;
Song List
Party Hits:
ABBA Medley – Abba
All About That Bass – Meghan Trainor
All Night Long – Lionel Richie
Baby Love – The Supremes
Baby One More Time – Britney Spears
Be My Baby – The Ronettes
Beautiful Stranger – Madonna
Blame It On The Boogie – The Jacksons
Boney M Medley – Boney M
Call Me – Blondie
Can You Feel It – The Jacksons
Can't Get You Out Of My Head – Kylie Minogue
Can't Hurry Love – The Supremes
Candyman– Christina Aguilera
Celebration – Kylie Minogue
Conga – Gloria Estefan
Crazy Little Thing Called Love – Michael Buble
Dancing Queen – Abba
Don't Go Breaking My Heart – Elton John & Kiki Dee
Don't Leave Me This Way – Thelma Houston
Finally – CeCePeniston
Firework – Katy Perry
Flashdance(What A Feeling) – Irene Cara
Get This Party Started – Pink
Girls Just WannaHave Fun – Cyndi Lauper
Heart of Glass – Blondie
Hey Ya– Outkast
Holiday – Madonna
Hot Hot Hot – Arrow
Hot Stuff – Donna Summer
I Love Rock nRoll – Britney Spears
I Only WannaBe With You – Dusty Springfield
I WannaDance With Somebody – Whitney Houston
I Will Survive – Gloria Gaynor
I'm A Believer – Smashmouth
I'm So Excited – The Pointer Sisters
I've Had The Time of My Life – Jennifer Warnes&
Bill Medley
Its Raining Men – The Weather Girls
Just Dance – Lady Gaga
Karma Chameleon – Boy George
La Bamba– Los Lobos
Lady Marmalade – Labelle
Land of a Thousand Dances – The Sapphires
Let's Get Loud – Jennifer Lopez
Let's Hear it for the Boy – DenieceWilliams
Let's Twist Again – Chubby Checker
Like a Prayer – Madonna
Locomotion – Kylie Minogue
Mama Mia – Abba
Man I Feel Like A Woman – Shania Twain
Material Girl – Madonna
Mercy – Duffy
Mickey – Toni Basil
Nutbush– Tina Turner
OblaDi OblaDa– The Beatles
Oh What A Night – Frankie Vallie& The Four Seasons
One Fine Day – The Chiffons
Rehab – Amy Winehouse
Respect – Aretha Franklin
Rock The Boat – KC & The Sunshine Band
Rude – Magic
ShaLa La – The Vengaboys
Shake Your Tail Feather – Blues Brothers
She Works Hard for the Money – Donna Summer
ShoopShoopSong – Cher
Single Ladies (Put_A_Ring_On_It) – Beyonce
Sister Act Medley – Sister Act
Stop In The Name of Love – The Supremes
Summer Loving – John Travolta &
Olivia Newton-John
Sway – Michael Buble
Take A Chance On Me – Abba
That Don't Impress Me Much – Shania Twain
The Tide Is High – Atomic Kitten
Three Little Birds – Bob Marley
Time Warp – Rocky Horror Show
Turn the Beat Around – Gloria Estefan
Valerie – Amy Winehouse
Venus – Banarama
Walk Like An Egyptian – The Bangles
Walking On Sunshine – Katrina & The Waves
WannaBe StartinSomething – Michael Jackson
Waterloo – Abba
We Are Family – Sister Sledge
What You Get is What You See – Tina Turner
When Love Takes Over – Kelly Rowland
Whenever, Wherever – Shakira
Will You Still Love Me Tomorrow – The Chiffons
Y.M.C.A – Village People
You Sexy Thing – Hot Chocolate
You're The One That I Want – John Travolta & Olivia Newton-John
Smooth Ballads:
4, 5 Seconds – Rihanna& KanyeWest
A Moment Like This – Kelly Clarkson
A Thousand years – Christina Perri
A Touch of Paradise – John Farnham
Africa – Toto
Against All Odds – Phil Collins
Ain'tNo Mountain High Enough – Marvin Gaye
All Cried Out – Allure
All Of Me – John Legend
American Pie – Madonna
Annie's Song – John Denver
As I Lay Me Down – Sophie B Hawkins
Baby Can I Hold You – Tracy Chapman
Beggar on the Street of Love – Jenny Morris
Big Girls Don't Cry – Fergie
Blowin' in the Wind – Joan Baez
Blue Bayou – Linda Rhonstadt
Borderline – Madonna
Brave – Kate Cebrano
Breakaway – Kellie Clarkson
Breathless – The Corrs
Burn – Tina Arena
Buses and Trains – Bachelor Girl
California Dreaming – The Mamas & The Papas
Can't Help Falling In Love – UB40
Chain Reaction – Diana Ross
Chiquitita– Abba
Constant Craving – K.D. Lang
Could I Have This Dance – Anne Murray
Count On Me – Bruno Mars
Crazy For You – Madonna
Danny Boy – Eva Cassidy
Didn't We Almost Have It All – Whitney Houston
Dindi– Lee Ritenour
Do That to Me One More Time – Captain & Tenille
Don't Dream Its Over – Crowded House
Don't Know Why – Norah Jones
Don't Speak – No Doubt
Dream A Little Dream of Me – Mama Cass
Dreams – Fleetwood Mac
Drift Away – DoobieBrothers
Easy – The Commodores
Eternal Flame – The Bangles
Even when I'm Sleeping – Leonardo's Bride
Everybody Hurts – The Corrs
Everything has Changed – Taylor Swift
Everything I do (I Do It For You) – Brian Adams
Everywhere – Fleetwood Mac
Fernando – Abba
Finally Found – The Honeyz
Flashlight – Jessie J
Foolish Games – Jewel
From This Moment – Shania Twain
Give Me One Reason – Tracy Chapman
Gypsy – Fleetwood Mac
Hallelujah – KD Lang
Hard To Say I'm Sorry – Chicago
Heaven Is a Place on Earth – Belinda Carlisle
Hello – Adele
Hero – Mariah Carey
Hey Soul Sister – Train
Hit Me With Your Best Shot – Pat Benetar
Hold On – Wilson Phillips
Hooked On a Feeling – Vonda Shepherd
Hopelessly Devoted To You – Olivia Newton-John
Hotel California – The Eagles
Hymn to Her – The Pretenders
I Don't Want To Be With Nobody But You – Wendy Matthews
I Got You Babe – Sonny & Cher
I Just Called To Say I Love You – Stevie Wonder
I Need A Hero – Pat Benetar
I Want That Man – Deborah Harry
I Will Remember You – Sarah McLachlan
I Won't Let You Go – James Morrison
I'll Stand By You – The Pretenders
I'm Just a Girl – No Doubt
Islands In The Stream – Kenny Rogers & Dolly Parton
It Must Have Been Love – Roxette
Je Ne RegretteRien– Edith Piaf
Just Like A Pill – Pink
Kiss Me – Sixpence None The Richer
L'amourestBleu – Vicky Leandros
La Isla Bonita – Madonna
La Mer/Somewhere Beyond the Sea – Charles Trenet
La Nuit– Adamo
Les TroisCloches – Tina Arena
Let Her Go – Passenger
Listen To Your Heart – Roxette
Little Talks – Of Monsters & Men
Love Fool – The Cardigans
Love Is All Around – Wet Wet Wet
Love the One You're With – Stills, Nash and Young
Lucky Star – Madonna
Mama – Spice Girls
Manic Monday – The Bangles
More Than Words – Extreme
My Heart Will Go On – Celine Dion
One Moment In Time – Whitney Houston
Peaceful Easy Feeling – The Eagles
Perfect – Fairground Attraction
Price Tag – Jessie J
Red, Red Wine – UB40
Riptide – Vance Joy
Rivers Of Babylon – Boney M
Romeo & Juliet – Taylor Swift
Runaway – The Corrs
Say A Little Prayer – Dionne Warwick
Say You'll Be There – Spice Girls
Set Fire To The Rain – Adele
Skyfall– Adele
Sober – Pink
Somebody to Love – Queen
Somewhere Over The Rainbow – Eva Cassidy
Son of a Preacher Man – Dusty Springfield
Stop – Sam Brown
Suddenly I See – KT Tunstall
Superwoman – Alicia Keys
Sway – BicRunga
Sweet Dreams – Eurythmics
Tears On My Pillow – Kylie Minogue
Tell Him – The Exciters
That's The Way It is – Celine Dion
That's What Friends Are For – Dionne Warwick
The Girl from Ipanema– Antonio Carlos Jobim
The Prayer – Andrea Bocelli& Celine Dion
The Sound of Silence – Simon & Garfunkel
These Boots Were Made for Walking – Nancy Sinatra
Thinking Out Loud – Ed Sheeran
Time After Time – Cyndi Lauper
To Sir With Love – Lulu
Torn – Natalie Imbruglia
Total Eclipse of the Heart – Bonnie Tyler
Treasure – Bruno Mars
True Colours– Cyndi Lauper
Truly Madly Deeply – Savage Garden
Under the Boardwalk – Bette Midler
What's Love Got To Do With – ItTinaTurner
What's Up – 4 Non Blondes
Who Knew – Pink
Willin' – Little Feat
Wind Beneath My Wings – Bette Midler
Wishing & Hoping – Dusty Springfield
Woman – NenehCherry
Woman In Love – Barbara Streisand
Would I Lie to You – Eurythmics
You Don't Own Me – Dusty Springfield
You Raise Me Up – Josh Grogan
You Were Meant For Me – Jewel
You're Still The One – Shania Twain
Zombie – The Cranberries
What A Wonderful World – Louis Armstong
The D'Lights Audio Demo