CARMELO MUNZONE TO RELEASE ALL-NEW SINGLE, NO BRAKES

5th March, 2014: The X Factor star, Carmelo Munzone is back and better then ever with the release of his new single, NO BRAKES, releasing nationally from April 8th.
Co-written by LA-based The Duelists, who have worked with the likes of Ciara, Adam Levine, Jessie J and Timbaland., the single showcases Carmelo's distinctive style- a fusion of Pop, Rock, Jazz andFunk.

Carmelo is most remembered for his performance of the Maroon 5 classic 'Sunday Morning' in
season three of The X Factor, surprising the judges with his incredible talent and instantly gaining a massive fan base of loyal and supportive followers. His individual style and effortless vocals saw him cruise through the competition, gaining international traction and an opportunity to sing for Usher in New York City.
After his premature elimination, the support from Carmelo's fan base was quickly noted by the
judges and he was reinstated to the competition as a finalist, making him the first contestant in The X Factor history requested to return to the show and finally placing him in the top nine contestants for season three of The X Factor.
NO BRAKES will be distributed by Record Union nationally, and available from April 8th
Carmelo Munzone is most remembered for his shock performance of the Maroon 5 classic, 'Sunday Morning' in season 3 of X Factor.
After wowing the judges he was unanimously sent through to super boot-camp where he continued to impress. His individual style and "effortless" vocals saw him cruising through the competition until, finally, he was humbled with the opportunity to sing for Usher, one of the industry's best, in New York. After his pre-mature elimination, Australian social media went into melt down and Carmelo was trending worldwide on Twitter. Never deterred and ever optimistic, Carmelo went on sharing his incredible voice throughout various venues in Sydney including Stonewall Hotel and The Piano Room. But his X factor journey was not over yet. After news that a fellow top 12 contestant in his category had been disqualified from the competition merely a week into the live shows, Australia once again showed their support for Carmelo.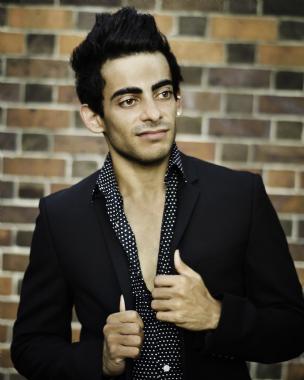 Social media erupted once more, urging the show to bring back their favourite contestant. This time their voices were heard and in an Australian first, Carmelo was re-instated as an X factor finalist. His first performance received rave reviews from both judges and public, and for the second time in less than a month he was trending on Twitter Worldwide. He continued to maintain support from both the public and judges throughout the 3 weeks that followed his return, however in the midst of the competition was sadly eliminated.
Carmelo succeeded 90 000 other hopefuls to become one of Australia's top 9 contestants.
He is also the first person in the show's history to be asked to return after being eliminated. Sure to maintain his public support, Carmelo continues to perform regularly at various venues throughout Sydney, Brisbane and Melbourne. His also generously lends his talent to numerous charity events, raising money for Cancer awareness. Since leaving the show, Carmelo has made headlines with his physical transformation after working hard with a personal trainer.
Continually working on original material, Carmelo is already becoming known as one of this country's emerging artists and is certain to maintain a career in the music industry for a very long time. His highly anticipated debut single No Brakes is set to be released on April 8th.
TELEVSION
X Factor Australia 2012
MacDonald's X Factor Commercial – featuring Johnny Ruffo (National Release)
X Factor live Finale 2012
Sunrise on 7
The Morning Show on 7
Stars of Summer on GO
LIVE PERFORMANCES
X Factor Australia 2012 (Live Auditions, Boot-camp, Home Visits, Top 12 live shows)
Westfield Parramatta
Macarthur Square
The Piano Bar (Multiple Guest Appearances)
La Viva's – The Rocks (Headliner)
Star Bar (Appearance)
Stonewall Hotel (Guest Appearance)
Bendigo Cup – Oasis Festival
Name This Bar (Guest Appearance)
Take 5 Brave Kids Awards (VIP Guest)
Repertoire list (Short list, variation possible and encouraged)
1/2 hour set
Feeling good
Back to Black
You give me something
If ain't got u
Valerie
Sunday Morning
45 min set
Feeling good
Back to Black
Sunday morning
If I ant got u
You give me something
Unforgettable
Valerie
Turning Tables
Hey Jude
1 hour set
Feeling good (a)
Closer
Crazy
Turning tables
You give me something
Sunday morning
Ordinary people
Valerie
Naive
If I ain't got u
Unforgettable
Hey Jude