Play 40s swing, 50s rock n roll, latin, lounge, soul, disco. Composers of Australia's most popular swing single "Jungle Jive" (APRA 2001). Also 2001 Wintersun awards. Have performed at most Oz music festivals and hundreds of functions & corporate events. Have Sydney's largest dance following.
Over the past 20 years the Jive Bombers have established themselves as Australia's leading dance band. Having won major awards for both jazz and rock n roll. The band has a large and loyal following of dancers and dance teachers; one of our original tracks "JB Boogie" has even had a dance created for it. However, gaining the praise of Frankie Manning, one of the worlds' greatest dance innovators, was very special.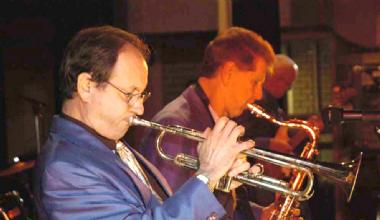 The strength of this band comes from the experience and quality of its members. Musicians working with the Jive Bombers have performed and/or recorded with everyone from the Beatles to Little Richard, Frank Sinatra to Roy Orbison. And the repertoire is probably the most eclectic of any band, containing award winning original songs and custom arrangements of the great songs from the past.
Testimonials:

"these guys know how to play for dancers,they can really swing"
Frankie Manning, creator of the Lindyhop, dance icon
"the best party band on the circuit"
Peter Batey OAM, Director
Coolac Festival of Fun

"Just so many people said the Jive Bombers band was the highlight of the Festival for them;"
George Ceely, President
Wagga Wagga Jazz Inc

"The most entertaining jazz act in Australia today"
John Speight, Director
Manly Jazz Festival

"the band played a major role in creating a great ambience and contributed tremendously to the smashing success of the evening"
Anne Held, Executive Director
Swiss Ball, Hilton Hotel

"Thankyou for making our Black Tie Dinner at The Intercontinental a fabulous night."
Peter Drake, General Manager
National Partnership Ltd, Intercontinental Hotel

"Thankyou so much for performing for us at the UNSW 50th Anniversary Ball. The Band was great and everyone enjoyed themselves; seeing everyone on the dance floor was evidence to this"
Corinna Wong, UNSW Student Guild
Roundhouse

"Just a short note to say how much we enjoyed your band on Sunday night at the golf club during the Wintersun Festival."
Sandy Ivory, Sunshine Coast Rock n Roll Wintersun Festival
Coolangatta

"Once again a fabulous night's entertainment by the Jive Bombers and we look forward to a return visit in the near future."
Jill Mayhead, Festival Co-ordinator
Mackay Festival of Arts

"Clare and I had a fantastic night and 'the band' made the evening."
Paul & Clare Butler, Wedding
St Patricks Hospitality College, Manly

"After having listened to your whole performance at the recent Manly Food & Wine Festival, my wife and I decided to move to Sydney from Zimbawe. How many bands do you know that have made people move country?"
Chris O'Connor
Manly Food & Wine Festival

"Thankyou and all the band for a great gig - lots of positive vibes on your playing."
Trevor Barqway
Synchro Marketing, Round Midnight