Lead by award winning flautist and composer Rebecca Lloyd, this elegant classical quartet will most certainly delight. Specialising in the performance of the great masterpieces, Classical Delight display great talent in the diversity they offer. Performing pieces ranging from Mozart to Mission Impossible, the quartet's repertoire covers music from JS Bach and Mozart to todays popular songs, appealing to audiences of all ages. Classical Delight can be booked as a quartet, trio, duo or solo. Quartet (flute, violin, viola and cello) Trio (Flute, violin and cello or Violin, Viola and cello) Duo: (Flute and Cello or Violin and Cello or Flute and Violin) Solo (flute, or violin or cello)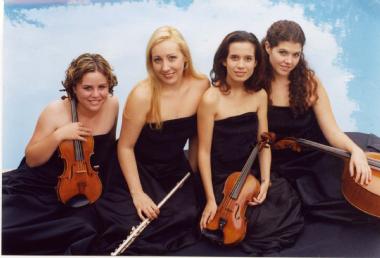 In killer heels and slinky designer gowns, Classical Delight brings glamour and seduction to the call of the classics.
Whether it is weddings, couture parades, soirees, high society concerts or private events at country homes, Classical Delight offers the cream of the classical collection all wrapped up in sophistication and femininity.
Based in Perth, Western Australia and oozing pure, natural talent this delectable, pulse-raising quartet is the vision of musical director, composer and award-winning flautist, Rebecca Lloyd.
Classical Delight promises an enchanting selection of music to suit all occasions. Symphonic and Operatic arrangements are Classical Delight's specialty in addition to the famous classical chamber works. Instrumental version of popular songs, film music and jazz performed with the finesse of Classical Delight make for a diverse repertoire with something for everyone.
With classical music being their first love this stunning combination of Rebecca Lloyd (flute), Rebecca Hooper (violin), Dora Maria (viola) and Alison Cook (cello) has dared to venture beyond the boundaries for classically trained musicians.
Having gathered an impressive array of degrees and awards these four stylish young divas have acquired rich and varied experiences, leaving their own indelible mark worldwide.
As musicians they have been involved in releasing albums, composing music for film and documentaries, performing before the Dali Lama, Prime Ministers and Mayors of New York, penning and playing their own compositions as well as performing in musicals.
These entrepreneurial musicians have studied with some of the most famous musical mentors in the world, including Ludwig Muller, concertmaster for the Vienna Chamber Orchestra, played in Symphony Orchestras, with the Australian Royal Ballet Company, to the WA Philharmonic Orchestra.
Their collective talent has also been used to perform before Condoleezza Rice, Jeb Bush, celebrities including John Travolta, Aretha Franklin as well as Australian rugby teams and at numerous sporting occasions.