FOREVER EVERLY, are one of the world's foremost tributes to The Everly Brothers. They recreate the wonderful music and soaring harmonies that made the Everly Brothers the world's most loved vocal duo.
With attention to details - from the clothes to the arrangements of the music, this internationally acclaimed show has travelled throughtout the world.
From their first hit in 1957 to the current day - The Everly Brothers remain the world's most loved vocal duo. Their sound - with it's wonderful close harmonies has influenced The Beatles, The Beach Boys, Abba, and many other artistes. Bye Bye Love, Bird Dog, Walk Right Back, Claudette ,Cathy's Clown and Let It Be Me are just some of the EVERLY BROTHERS hit songs that are included in this show. Add to these, some of their recordings of country, rock and roll and beautiful ballads, and you have a performance that will please everyone.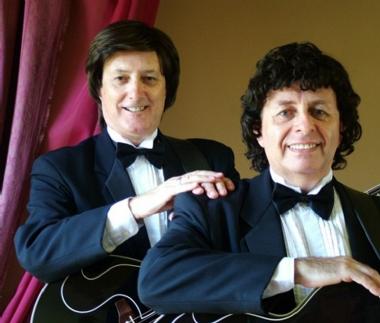 David Lee-Jay and Martin Norris are both entertainers with a vast wealth of experience. They have both toured the world, worked in television and radio, and appeared with many named artistes.
David has toured throughout the world as an entertainer, and was a member of several UK 60's chart topping bands. He has appeared on television in Europe and Scandinavia, recorded for EMI, and is much in demand as a session vocalist and musician.
Martin worked extensively in television in Southern Africa, and has written and directed many television programmes. His song writing and production skills have bought him many awards, including gold records, Mobius Awards, (Chicago ), Sunnie Awards(Qld), and New York Film and TV Awards.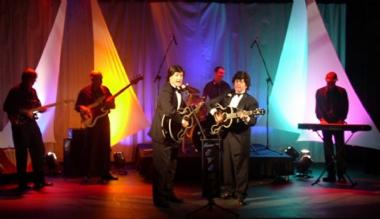 Together they are "Forever Everly", and provide a show that recreates the music and soaring close harmonies that are the trade marks of the EVERLY BROTHERS. The International Everly Brothers fan club and website have already declared this show as "the best they have heard, other than the boys themselves"
"Forever Everly" is available as a two-piece show using recorded backing – up to a full five piece using their own backing musicians. The show is suitable for all types of venues, from corporate functions to theatres, clubs and festivals, and is available for matinee and evening appearances worldwide.
"Forever Everly"
A Tribute to the Music and Vocal Harmonies of the
Everly Brothers
SONG LIST
Be Bop A Lula

Bowling Green

<span lang="EN-AU" style="FONT-SIZE: 11pt; COLOR: w