Joel Hurrey is your typical Australian boy, handsome, cheeky and outgoing with a million dollar smile.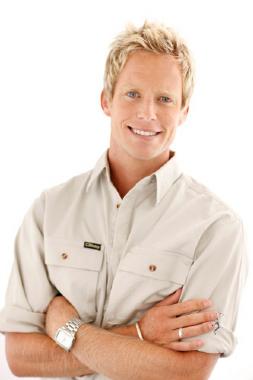 Born in Melbourne, Joel attended one of Melbourne's top performing Arts Schools, Sandringham Secondary College in Years 11 & 12, before moving to the Gold Coast in 2001 to work as a successful landscaper on several large projects.
At only twenty-five years of age, Joel has been cast as a presenter and resident horticulturalist expert on Channel Nine's top rating series Domestic Blitz.
Joel's television experience within a short period of time includes the resident horticulturalist expert on the Channel Nine's series Battlefronts; numerous commercials such as National Australia Bank; Nerf Gun Toy (US); Clarke Shoes and as an extra on Neighbours and the US mini series The Starter Wife. His first big break was when he appeared on the cable mini series Crash Zone. Joel also does some modelling.
Joel loves action sports and his passion is surfing, which has seen him travel to Indonesia to chase waves and to Japan to snowboard.
His love for action sports also includes skydiving and bungy jumping to name a few, whilst his broad love for sports, and in particular surfing, sees him spend every spare minute of his time surfing waves….That's when he's not filming or working in someone's garden of course!
Aside from his horticultural and landscaping skills, Joel is also a fully qualified swim coach and has completed an advanced driving course through Holden on the Gold Coast.