Performing from her unique gaily coloured clownmobile, Bumbles is a great attraction and loved by children, parents and grandparents alike from Adelaide to Alice Springs and Darwin to Darling Harbour.
Now based in Brisbane, Bumbles has been a regular attraction at corporate functions, tourist attractions, shopping malls, fetes, fairs, festivals, expos and various hotels including the Hilton International, Carlton Crest and the Marriott over the past fifteen years.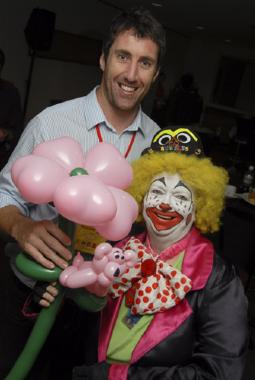 Her gentle manner,patience and obvious love of children endears her to the littlies of all ages, even those who are normally in fear of costumed characters.
Bumbles creates such an enormous variety of characters from balloons, in a matter of seconds without appearing to look at what she is doing in order to create a mini masterpiece.
The best way to appreciate the effect of this one clown parade on her moving stage(sized to access most venues) is to read some of the comments of those who have enjoyed her talents:
Grace,ABC Funrides "Colourful, fun, warm and friendly - a kid's magnet"
Racecourse Road Festival "The best looking clown I've ever seen and the most novel presentation."
Melinda, Grand Plaza "Bumbles you're just a genius with balloons!"
Geoff, Settlement City "Her skills of shaping balloons into figures of all types, shapes and sizes keeps crowds of all ages amazed for hours"
Julie, Darling Harbour " Just a short note to congratulate you on your appearances at Harbourside Darling Harbour. You certainly sent the crowds away with huge smiles. It was a pleasure having you perform here and we would love to have you back anytime you should be in Sydney"
Sharon, Stockland Plaza "Your high standard of professionalism and entertaining style were most refreshing to both tenants and customers alike. We look forward to having you with us again in the very near future."
Maria, Mater Hospital "We really appreciated the time and patience you devoted to each and every child you met, you really helped to brighten their day.Thank you for your time and talents and for the joy you brought to so many of our tiny patients."
Kerry, Bankstown Square "She looks great and the children love her"
Angela,at Hyperdome "On a personal level, I have been involved in the entertainment industry via theatre for many years and I find your presentation and entertainment concept alias "Bumbles" outstanding. Your rapport with both adults and children is commendable and your conduct highly professional"
Donna,Grand Plaza "When it comes to Public Relations you're the best!"