· The children and parents are all encouraged to sing and dance and join in the party games and its festivities.
· Birthday Gift for Birthday Child
· Face Painting for all (including the young at heart!!).
· Balloons with treats for all children.
· Suitable for Birthdays and other types of special occasions including 21sts (Imagine the fun!!), Christenings, Naming ceremonies, Weddings, Corporate and Public events.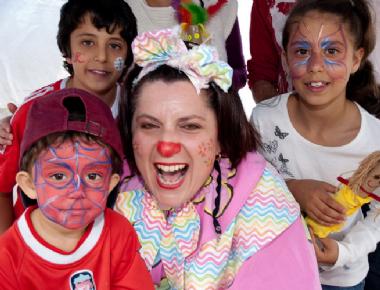 Daisy also visits Pre Schools, child care centres, community festivals, festas, fairs and fetes. · Daisy is also available for just face painting, and there are also added incentives for Fundraising events. (Subject to availability) Fairies, Snow Queens, Tigers, Lions, Monsters, Cheetahs & more · Daisy travels to most areas, and will also entertain in parks, indoor play centres etc. · Most visits from Daisy last approx. 60- 90 minutes (for Parties) or longer, subject to individual needs and availability.
"The Children Loved Daisy .... Everyone (including adults) thought it was one of the most Fun and entertaining parties that they had been to." - K Hude Preston
"The children adored her and had a brilliant time" - DD (Diane Dunleavy) Radio Personality and Presenter
"The children all enjoyed themselves immensely - Having Daisy the clown, both my parties were a great success! " - K Bell Greensborough
"A Professional act, which all the children enjoyed. I was delighted by her professional approach and her great -way of entertaining children".- G Mumme, Teacher Bundoora
"Daisy proved to be very successful and thoroughly enjoyed by the children." - A Ball Banyule City Council
Christmas Parties for Schools, Kindergartens, playgroups etc as Santa, Mother Christmas, Santa's Helper with Christmas songs and activities