TRIPOD
AUSTRALIAN MUSIC COMEDY SENSATIONS
Scod, Yon and Gatesy are Tripod – one of the most popular and prolific comedy acts working in
Australia today. There are number of facts that are both interesting and informative to know about them:
Fact 1: There are 3 of them.
Scod is the geeky one with the guitar and the glasses.

Gatesy Sings quite well and wants to play guitar.

Yon He's shorter. He's weirder. He wants to play guitar but will settle for the trumpet.
Fact 2: They are funny but their songs are also quite nice to listen to.
Fact 3: They have toured together a great deal and have never seen each other nude.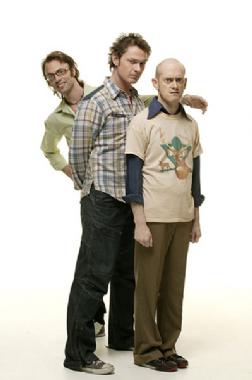 2008 has been massive. Tripod have been on an overseas gigging spree, including shows in London on The World Stands Up and at the Leicester Comedy Festival, the Just for Laughs Festival in Montreal, Upright Citizens Brigade Theatre in both New York and Los Angeles, a week of shows in Singapore and heading back across the Tasman for the Christchurch Cabaret Festival.
Tripod got to satisfy their inner Rock Gods by performing 3 huge shows at The Forum Theatre in Melbourne, as part of the Melbourne International Comedy Festival, as well as appearing at numerous music festivals across Australia, including the Woodford Folk Festival, the Gympie Music Muster and the Falls Festival.
They've also just wrapped up in the studio recording their first ever Christmas Album, to be released in time to put in your stocking at the end of 2008.
Did someone say busy?!
2007 was just as big for Tripod. Their live show How to Train An Attack Dog From Scratch (a made up history of the funny song), played at the Adelaide Fringe Festival and Melbourne International Comedy Festival, and was also nominated for 4 Green Room Awards, Melbourne's Premier Arts Awards.
Tripod had a successful return to the New Zealand Comedy Festival in May and returned to the
Edinburgh Fringe Festival in August for the first time in nearly ten years, performing in the delectable Spiegel Garden to sell out houses and rave reviews.
Tripod also spent many a Saturday night on your TV screens in 2007, as core cast members for
ABC TV's, variety program, The Sideshow.
Oh, and there were also nominated for the Aria for Best Comedy Album Award for their Album,
Songs from Self Saucing.
"one of the funniest things happening in Edinburgh right now. Or possibly the world…
there's hardly time to catch your breath in between bouts of uncontrollable laughter… these guys are unbelievable musicians too. Sometimes five stars just aren't enough"
The Scotsman, Edinburgh
"These guys are good. These guys are great. These guys are jaw-hang-wide-open,
-drool-slowly-drip-out brilliant" Herald Sun, Melbourne
"Obscenely talented. A festival highlight." The Age, Melbourne
"Tripod could be a comedy trio or just a very strange, very talented rock band"
Adelaide Advertiser
"Terrifically funny. Out of this world" Sun Herald, Sydney
"A beautifully performed rollercoaster ride of captivating nonsense, fabulous comedy
and music... definitely go and see them!" The Scotsman
"If you see nothing else all festival, Tripod is the one to see. They may be Australian,
but they're brilliant." NZ Herald
"They write proper songs, they put proper jokes into them, and they perform them
with classy style." chortle.co.uk
"A Must See" NZ Herald