David Welzman- Corporate Entertainer
4 New Online Video (scroll down to view)
His Client list is a "who's who" of Corporate Australia including Mitsubishi, IBM, AMP, Caltex, Xerox and over 100 others. Over 3 million people have experienced Welzman's entertainment presentations live and on television.
Welzman has "combination" package deals found nowhere else in Australia that reduce your event costs but at the same time provide you with the high quality experience that you want & need for your VIP events.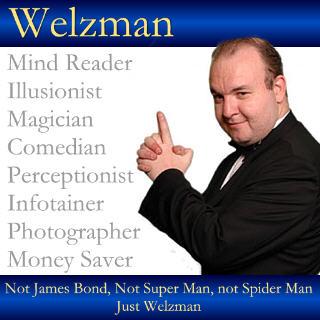 At Trade Shows, Conferences & Cocktail Parties, David's use of psychology, energy and humor create strong memorable impressions of your companies products, services & image.
David uses flamboyant energy and dynamic interactive presentations to raise the energy level, create momentum and to communicate your key messages,

David Welzman has appeared on Channel, 7, 10, Foxtel and SKY.

He was the first magician ever to appear on Kaos TV. He has performed
Mind Reading over the radio for over 10000 listeners on triple H Radio. So experienced is David he trains other
professional Magicians
to improve their act and has earned the title - Master. David has also created Illusions sold to other Magicians in the US,UK China and Germany
3 Corporate Shows At A Glance
1: Elite Roving Entertainment
For Cocktail parties and pre dinner drinks style eventsCombining Roving Magic with FREE Event photography- Welzman Kills two birds with one stone providing you with "high end" Quality Magic with the added benefit of a Photographer. and you get all the photo's for free
2: After Dinner Entertainment
For Awards nights, Dinners, Charity events & conferencesThis show, designed specifically for corporate events, is unique in that it can be performed ANYWHERE in ANY venue. This HIGHLY INTERACTIVE show includes Magic, Mind Reading & Comedy
3: Crowd Building Entertainment for exhibitors at trade showsWelzman is the Infotainer- Information and entertainment, This show is not just a traffic stopper but a complete end to end solution for trade shows. Welzman creates crowds, conveys your message and increases lead generation by 55% or you don't pay.

Welzman is the leader in trade show entertainment.
VIDEOS
Elite Roving Entertainment in Detail below
After Dinner Show Video Highlights below
Trade Show Infotainment Video- The Crowd Builder below
Testimonials Video Below