COMICAL MAGICIAN
WARREN JACKMAN is a leading comedian and professional magician, who has entertained around the nation with his fast wit Comical lines and entertaining magic routines. From Stage Shows to walkaround table magic, from the Casino to Cruise ships Warren has weaved his own cheeky charm far and wide and is in demand for public and private show, or specially designed corporate functions where discreet advertising messages can be incorporated.
Warren Jackman entertains with a blend of comedy and magic.
An accomplished sleight of hand
close-up magician
, his comedy magic floor show is very funny, never blue. His fast wit, slick patter, and razor sharp one-liners will leave you laughing and bewildered.
Warren has amazed audiences the world over, from cruise ships to corporate boardrooms, to pubs, clubs and private functions.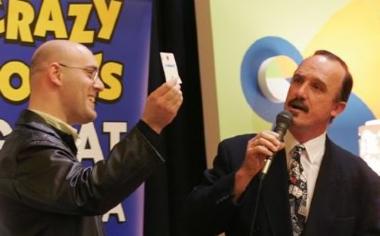 As one of Melbourne's busiest
corporate entertainers
, Warren has managed to ace tennis great John Newcombe, outsprint Tour De France Champion Robbie McEwen, whipped champion jockey Greg Hall into a lather, got $20 from Federal Treasurer Peter Costello and even managed to make Lindsay Fox laugh. An entertainer's entertainer, Warren can compere, auctioneer and emcee any event and delights as a hoax speaker.
Guaranteed not to offend, Warren's material fits the occasion. Neat as a pin and sharp as a tack, for nearly 20 years the corporate world has never tired of, and long before that other Jackman started to make a name for himself.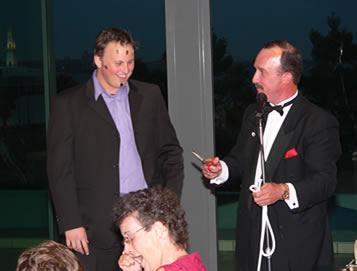 If you are 8 or 80, for plenty of laughs, good solid entertainment, Warren will be the highlight of your event. Witness a little bit of "Las Vegas" with your own eyes.....You won't be disappointed.
WARNING: "Attend under Strict Medical Advice."

Warren Jackman has developed a unique cabaret comedy magic act which will leave you laughing and totally amazed.

He has performed at for many well know clients such as - Pratt Industries - Kraft Foods - Digital - Myer - Mercedes Benz - B.M.W. - Shell & B.P. - to namedrop but a few.

Whether you are 8 or 80, for plenty of laughs and mind-boggling magic, Warren Jackman will be the highlight of your function. If your wanting your event / function to be memorable then book Warren now!
Hear what people have said:
Effie (Mary Koustas) - Truly Amazing
Peter Costello (Treasurer) - Unbelievable
Andrew Gaze (Basketballer) - Incredible
Paul Cronin (Actor) - Mate, you killed them.
EXPECT THE UNEXPECTED