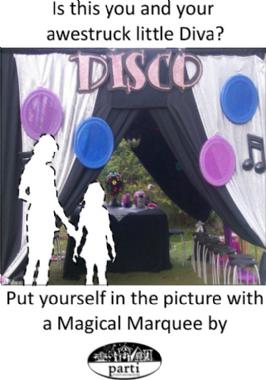 Do you want to throw your little girl or boy the best party ever? Do you want your little girl or boy and their friends to feel extra special this year? Do you want the option to have your party anywhere you want - i.e. Back Yard, Deck, Park, Restaurant or local Hall? Do want someone else to do all the hard work?
You will be amazed how different the children play, interact and behave when put in an environment where they feel very special. Make this the easiest party you have ever thrown as we deliver. set-up, pack-down and return one of our Magical Marquee's.
DISCO MARQUEE
We will add the magic and take away all the hard work at your little Diva's next birthday party. If you want your child to experience the best birthday ever, then chose the theme and give us a call and we'll be there on the day with:
1 x 3mtr x 3mtr Marquee
2 x Trestle tables
1 x Black Linen Table Cloth
1 x Silver Sequined Table Runner
1 x Mirror Ball and Motor
16 x Black Stools
1 x Internal Black Drapes and Ribbon Ties
1 x 3-D Disco Sign and Façade
5 x Themed Games
All you have to do is celebrate!