"Carnivale" Event Decorations
If you are organising a big event and are wanting something different and special, with a big WOW factor? Where all of your guests are just communicating how much they love being at the event and how successful it is. Are you looking for something different with minimal effort on your part?
We will transform your venue and transport your guests to the world's most elegant and sophisticated Mardis Gras; The Venetain Carnivale. Whether it be A Night at the Opera, New Years Eve, Mardi Gras or a Gala Dinner to sy grazie; our range of 'Carnivale' Props and Soft Furnishings is sure to provide the Prestige, Luxury and Chic to your next event.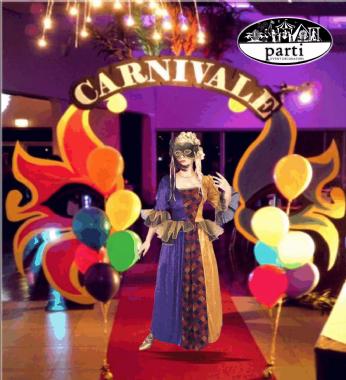 Includes:
Carnivale Entrance
Purple Velvet Curtains [Double Sided]
Carnivale Sign [x 2]
Red Carpet Runner [5mtr]
Multi-coloured Helium Balloon Clusters [x 4]
Stand alone metal stand and Base plates
'La Verde' Giant Venetian Mask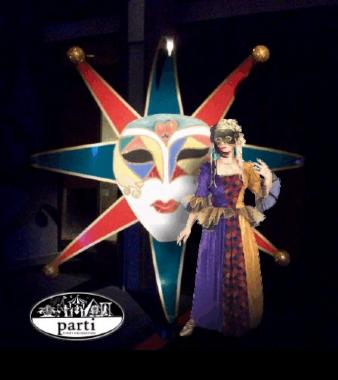 Includes:
'La Verde' Giant Mask
Stand alone metal stand and Base plates
'L'orange' Giant Venetian Mask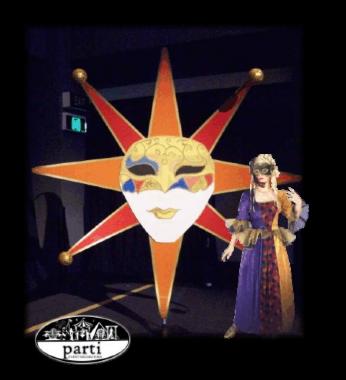 Includes:
'L'orange' Giant Mask
Stand alone metal stand and Base plates
'L'opera' Giant Venetian Mask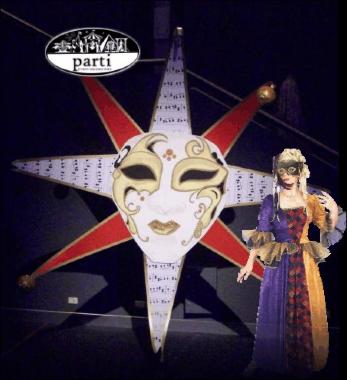 Includes:
'L'opera' Giant Mask
Stand alone metal stand and Base plates
Venetian Mask Centre Piece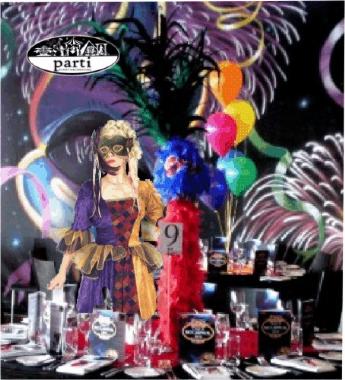 Includes:
COCKTAIL TABLES
Includes:
Feather Mask Centre
LED Spotlight [x2]
Dry Bar
Black Table Cloth [Cafe]
Red Satin Overlay
DINNING TABLES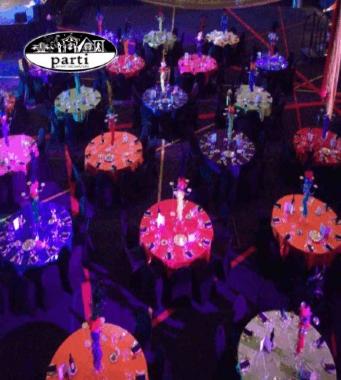 Includes:
Feather Mask Centre
LED Spotlight [x2]
Dry Bar
Black Table Cloth [3mtr Round]
Red Satin Overlay
EXTRA'S $105 + GST per table
1 x Table (1.8mtr[D])
10 x Bistro Chairs
10 x Black Lycra Chair Covers
10 x Velvet Bands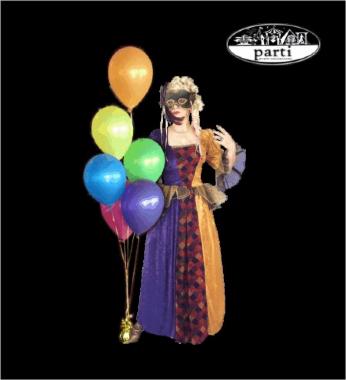 COCKTAIL TABLES
Includes:
Balloon Cluster [x 5]
LED Spotlight [x2]
Dry Bar
Black Table Cloth [Cafe]
Red Satin Overlay
DINNING TABLES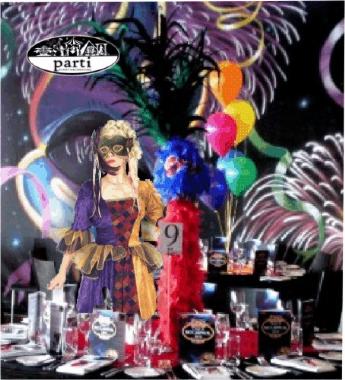 Includes:
Balloon Cluster [x 5]
LED Spotlight [x2]
Dry Bar
Black Table Cloth [3mtr Round]
Red Satin Overlay
EXTRA'S
1 x Table (1.8mtr[D])
10 x Bistro Chairs
10 x Black Lycra Chair Covers
10 x Velvet Bands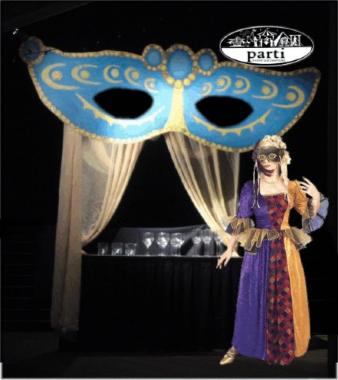 Includes:
Giant Blue Mask with Yellow Chiffon Swagging
Custom Trestle with 2 x 60ltr Ice Tubs
Lantern Centre Piece
Black Satin Skirt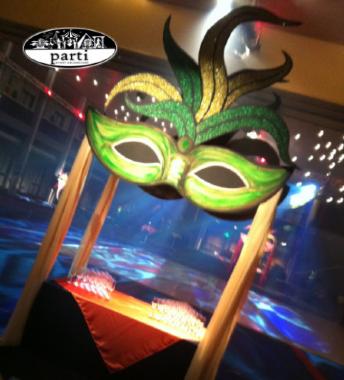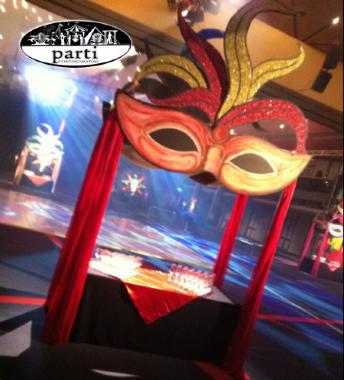 Includes:
Giant Blue Mask with Yellow Chiffon Swagging
Custom Trestle with 2 x 60ltr Ice Tubs
Lantern Centre Piece
Black Satin Skirt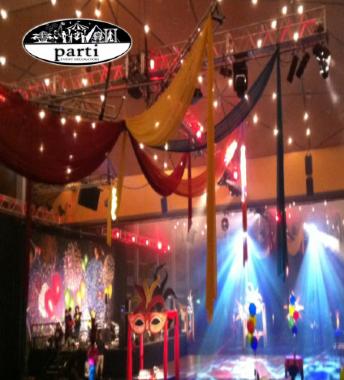 Includes:
Chiffon Drapes (1.2mtr[W] x 10.0mtr [L])
Framing and Base Plates
Includes:
3 x Black Curtains (1.5mtr[W] x 2.4mtr[L])
1 x Multi-Coloured Velvet Swag (1.5mtr[W] x 9mtr[L])
Framing and Base Plates
Includes:
1 x Marquee [3mtr x4.5mtr]
10 x Black Drapes (1.5mtr[W] x 8.0mtr[L])
2 x Teal Velvet Swags (1.5mtr[W] x 9mtr[L])
2 x Teal Velvet Swags (1.5mtr[W] x 12mtr[L])
2 x Trestle Tables (1.0mtr[W] x 1.5mtr[L])
1 x Black Table Cloth (4.5mtr[L] x 2.5mtr[W])
10 x Bistro Chairs
10 x Black Lycra Chair Covers
10 x Multi-coloured Velvet Chair Bands
2 x Arabian Centre Pieces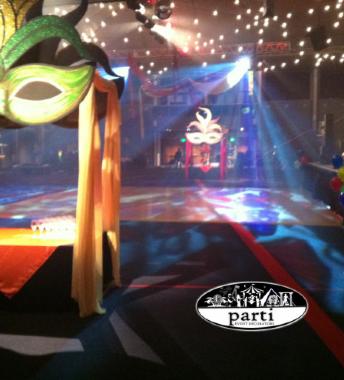 Includes:
1 x Marquee [3mtr x4.5mtr]
10 x Black Drapes (1.5mtr[W] x 8.0mtr[L])
1 x Dance floor [3mtr x4.5mtr]
2 x Multi-coloured Velvet Swags (1.5mtr[W] x 9mtr[L])
2 x Multi-coloured Velvet Swags (1.5mtr[W] x 12mtr[L])
5 x 50 Watt Halogen Spotlight
1 x Rotating Mirror Ball
Carnivale Show Case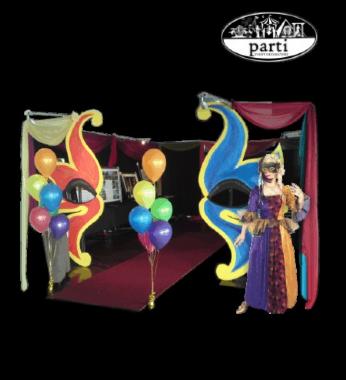 Includes:
4 x Theme Partitions
1 x Entrance (Single Sided)
2 x Velvet Swags (1.2mtr[W] x 10mtr[L])
Carnivale Backdrop

Includes:
Giant Backdrop
Stand Alone Framing and Base Plates [x4]