John Maclean Motivational Speaker
You can count on one hand those who've had what it takes to both swim the Channel and complete the Hawaiian Ironman Triathlon, one of the world's most demanding tests of endurance. John has completed the Hawaii Ironman three times.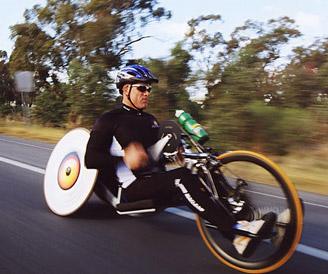 He represented his country at the 2000 Olympic Games. In 2006 he took part in the invitation-only extreme endurance event Ultraman World Championships, in Hawaii. He was recently invited into the sport of rowing. In September 2007 he and his rowing partner claimed a silver medal at the Rowing World Championships. and a GOLD in Italy at the International Regatta in April 2008. They will represent Australia, going for gold in Beijing later this year. He's done all this from a wheelchair: John is paraplegic.
Have John speak at your event John is able to tailor his presentation to fit in with the themes and goals of your event. Rather than simply turn up on the day, John will work with you prior to your event to ensure the maximum impact on the day and leave a lasting impact on your attendees. John's one hour presentation includes incredible footage from his remarkable career achievements, from which he has the ability to present on a number of themes.