Circus Trick Tease is a show that takes elements of traditional circus and incorporates comedy, satire, drama, love and lost love…. And of corse jaw dropping, astounding tricks of strength, poise and flexibility. The group will dazzle the audience as the trio balance effortlessly on each other's hands, head and feet. With great confidence and trust involved to master these potentially dangerous trick's, you would find no greater mismatch of entertainers.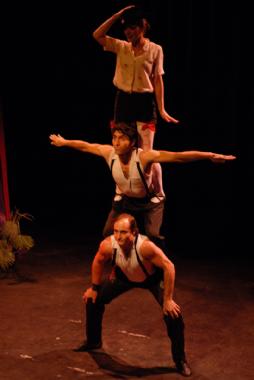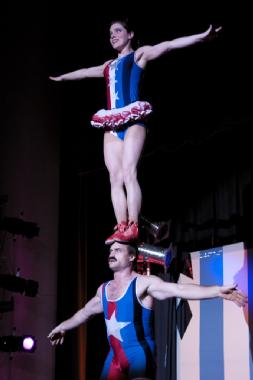 This 45 minute show consists of five individual acts each of which could be used for your special function.
Act 1- Male/female acrobatic duo about 5 minutes in length.
Act 2- The Sensitive New Age Strongman who sings a song and then "picks up" 4 female audience members. Needs to be seen to be believed.
Act 3- Witness as the Trick Tease Trio perform their comedy trio acrobatic act.
Act 4- A hand-balancing act which culminates in a free standing headstand on a pile of boxes on an upturned bottle!
Act 5- The finale act of the show is a 1940's swing inspired acrobatic/dance extravaganza, with a twist! Check out the "Circus Trick Tease Finale" video!
Each of these acts can be used individually or as a package with one or more of them.
A video of each act is on the way.
The trio are dressed in 1940's inspired costumes from Melbourne designer Tim Tropp that reverse and change with the mood of the show. Back stage will also be slightly visible to the audience to give them a sense of what goes on behind the scenes. Such as silhouette costume changes, arguments and tantrums. Remembering all along that, it doesn't matter what happens backstage, as in the greatest of all circus traditions, the show must go on! These performers draw on their own experience in the circus world, both traditional and contemporary.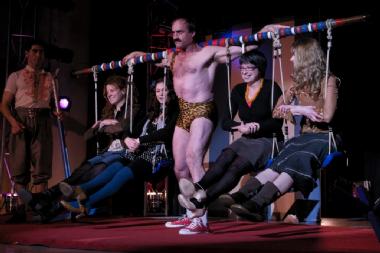 These three artists bring over 30 years of performance experience into their show. They have all performed as individual artists all over the world (China, USA, Taiwan, Iran, Malaysia, Japan, Turkey, UK.......) They have trained at some of the most reputable institutions (The National Institute of Circus Arts, The Royal Academy of Dance.....) They are ready to give your event that extra something that all who witness will remember for years.