Taking the Reindeer out to get ready for the 'Big Night', meet Rudolf and Blitzen in person! With 2 cheeky elves in the saddle, These two will have you in stiches, and wonderment! Two of the cheekiest elves in the business provide loads of fun, and laughs. Lots of Elves emerge at Christmas, but these two are truly unique.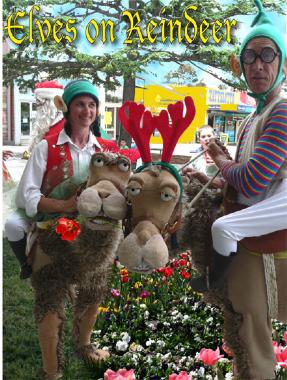 You won't see anything like them anywhere else. Guarunteed!! Rudoph and Blitzan are two life sised, very life like, puppet 'reindeer' with blinking eyes, waging tails, chewing mouths and 4 independantly articulated legs. Created by one of Melbournes most creative and skilled independant puppet builders there is nothing else like them.
Other Acts to view...
Gosper And The Tale Of Her Wings