2 Giant Butterflies. 'Flitter and Flutter', the 2 Giant Butterflies, are the original gentle giants. In Corporate environments, they add glamour and class. In Festivals, they dance, pose, sip nectar, give out beautiful butterfly stamps, and make friends with all ages and cultures. These spectacular creatures are absolute camera magnets and heart warmers. There is nothing else remotely like them on the market.!! Two different colored 'wing sets' are available. 'Harlequins' (Rainbow and Blue) or the 'Red and Golds'. They are perfect for multicultural events or Asian Festivals where Red and Gold are considered 'good luck' colors.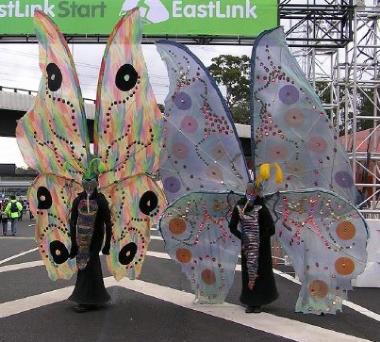 The Giant Butterflies measure approx 4 meters in height. For rooms with low ceilings, the tall wings can be removed whilst retaining fabulous impact. 4 meter high Giant Butterflies enjoy maximum visibility without the risk of stilts. Ground based, means up-close and personal for group photos ANYWHERE!!. John Cleese of "Monty Python" fame requested his photo with the Giant Butterflies at a recent corporate function. (The Photo is available on request but is not to be used for publicity purposes.)
Testamonials are also available on request. Perfect for Parades Corporate 'Meet N Greet' Icebreakers Festival roving Wherever maximum impact of colour and movement is required.
Where they have performed.
Melbourne 2006 Commonwealth Games,
Taipei Children's Art Festival,
Singapore Opera and Cultural Centre opening,
Singapore Singtell (Telco Family Day)
Scores of Community festivals and corporate occasions,
Floriade in Canberra,
Fun4Kids in Warrnambool (Vic),
Melbourne International Flower and Garden Show,
Healesville Sanctuary,
Melbourne Zoo,
Melbourne Food and Wine Festival,
Burkes Backyard, (T.V Gardening Show)
Weddings,
Shopping Centres,
Sydney Olympic Torch Relay Entertainment
Other Acts to view...
Gosper And The Tale Of Her Wings