'GONE TO THE DOGS' !! Go on holidays, go for a walk, go anywhere, but don't forget to take the pooch! Meet 'Herman' and his new wife 'Devinia' with their two amazing 'Dogs', 'Knuckles' and 'Squeegee'… 'Herman and Devinia' (typical pet owners) will delight in sharing with you, the tips and tricks for how best, to love and travel with 'Mans Best Friend'. They are the best trained pet owners in the business and they never leave a mess! They DO leave a trail of hilarity, joy and complete your needs when it comes to entertainment. There is just nothing quite like them!! 'Knuckles' is a beautifully handcrafted puppet made from Red Cedar. 'Squeegee' is a pure bred 'SABCO' (South Australian Brush Company).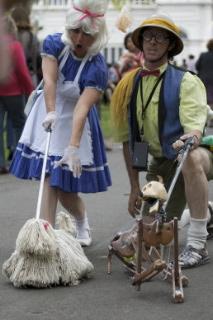 'Herman' and 'Devinia' are a match that only heaven could make! Perfect for Parades Corporate 'Meet N Greet' Icebreakers Festival roving Wherever quirky comic roving improvisation is required. Their interactive banter can of course be adapted for specific themes. Consider them for Food and Wine Festivals. Sporting and lifestyle events. Camping Expos. Any in door or out door events. Where they have performed. Moomba Waterfest parade. Melbourne International Flower and Garden Show. Healesville Sanctuary. Various community festivals and shopping centers. Various Councils promoting responsible pet care.
Other Acts to view...
Gosper And The Tale Of Her Wings